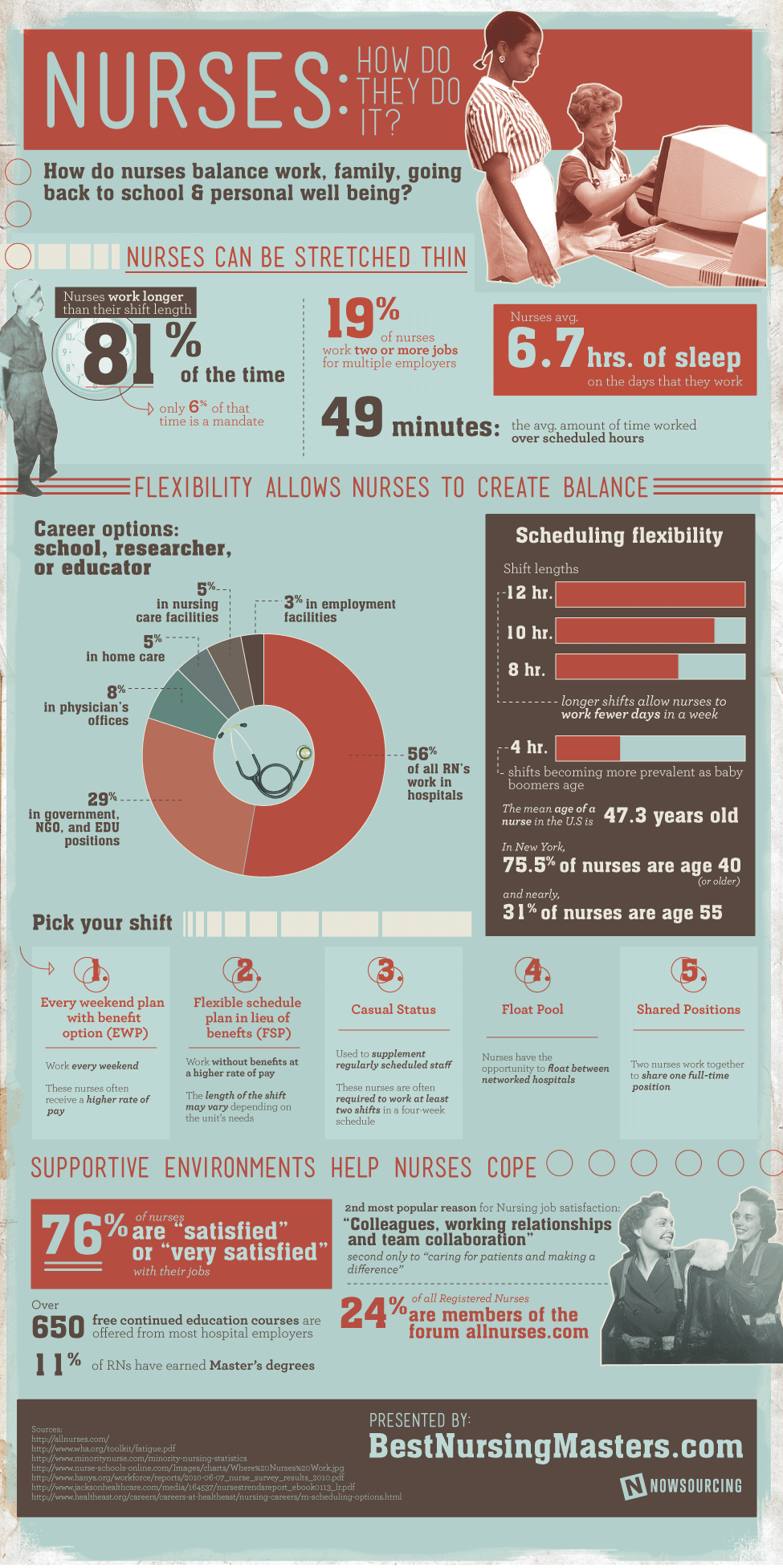 Embed this infographic on your site!

The editors at Best Nursing Masters Degrees decided to research the topic of:
How Do Nurses Do It?
How do nurses balance work, family, going back to school and personal well being?
Nurses Can Be Stretched Thin
– Nurses work longer than their shift length 81% of the time
– 19% of nurses work two or more jobs for multiple employers.
– Nurses average 6.7 hours of sleep on the days that they work.
– When nurses work overtime, the average amount of time worked over scheduled hours is 49 minutes.
Flexibility Allows Nurses to Create Balance
– Career options: school, researcher, educator
– 56.2% of all RNs work in hospitals
– 29% in Government, NGO and EDU positions
– 8% in physicians offices
– 5% in home care
– 5%in Nursing care facilities
– 3% in employment services
– scheduling flexibility
– 12 hour shifts, 10 hour, 8 hour shifts are the norm
– longer shifts allow nurses to work fewer days in a week
– 4 hour shifts becoming more prevalent as baby boomers
– The mean age of a nurse in the state is 47.3 years old.
– In New York, 75.5% of nurses are over the age of 40 and nearly 31% are over age 55.
– Pick Your Shift
– Every weekend plan with benefit option (EWP)
– This is a pattern of working every weekend.
– These nurses often receive a higher rate of pay.
– Flexible schedule plan in lieu of benefits (FSP)
– These nurses work without benefits at a higher rate of pay to supplement full-time, part-time and casual staff as needed.
– The length of the shift may vary depending on the unit's needs.
– Casual status
– A casual nurse is used to supplement regularly scheduled staff.
– A casual nurse shall be called or scheduled to work in a manner mutually agreeable between the nurse and the hospital.
– These nurses are often required to work at least two shifts in a four-week schedule
– Float Pool
– Nurses have the opportunity to float between networked hospitals.
– Shared positions
– Two nurses work together to share one full-time position.
Supportive Environments Help Nurses Cope
– Peer support
– 76% of nurses are "satisfied" or "very satisfied" with their jobs
– 2nd most popular reason for Nursing job satisfaction: "Colleagues, working relationships and team collaboration"
– second only to "caring for patients and making a difference"
– 24% of all Registered Nurses are members of the forum allnurses.com
– (2,909,357 RNs in the U.S., 691,742 on forum)
– Continued Education
– Over 650 free continued education courses are offered (usually for free) from most hospital employers
– tuition assistance is offered to many nurses to achieve graduate programs
– to date, 11% of RNs have earned Master's degrees
Sources
– http://www.hanys.org/workforce/reports/2010-06-07_nurse_survey_results_2010.pdf
– http://www.wha.org/toolkit/fatigue.pdf
– http://www.minoritynurse.com/minority-nursing-statistics
– http://www.healtheast.org/careers/careers-at-healtheast/nursing-careers/rn-scheduling-options.html
– http://allnurses.com/
– http://www.healtheast.org/careers/careers-at-healtheast/nursing-careers/rn-scheduling-options.html
– http://www.nurse-schools-online.com/Images/charts/Where%20Nurses%20Work.jpg
– http://www.jacksonhealthcare.com/media/164537/nursestrendsreport_ebook0113_lr.pdf